Your Go-To Source for NYS Government Affairs
To learn how NYSNLA is protecting you--and representing you in Albany--please

check out our Advocacy page

. 
Make Sure You Are Up-to-Date on NYS Rules, Regulations & Services for the Green Industry
Below please find two very helpful videos containing the latest news and updates from a host of New York State agencies--including DEC, Ags & Markets, DOT and DOL.
 
New York State Agency Roundup (DEC, Ag & Markets, and DOT) (56:40)

New York State Department of Labor and Workforce Update (38:30)  
New Laws & Policies In Effect for 2023
PAY TRANSPARENCY BILL (Takes effect on September 17, 2023)
Covered Employers
The law applies to: 
employers with 4 or more employees in NYS (including remote employees); and 
any recruiter connecting employers to candidates (excluding temporary help firms).
Advertisement Obligations
When advertising any job, promotion, or transfer opportunity (collectively, "position") that can or will be performed, at least in part, in NYS, covered employers must disclose:
the compensation or range of compensation for the position (that is accurate based on the employer's good faith belief at the time of posting); and
the job description for the position, if such a description exists.  
If the covered employer is advertising a position that will be paid solely on commission, it does not need to disclose the compensation/range of compensation for the position but must include a general statement that compensation will be based on commission. 
Recordkeeping
Covered employers also have additional recordkeeping obligations. They must maintain "necessary records to comply with the requirements of [the law]," including records of position advertisements, the history of compensation ranges for advertised positions, and a job description for any advertised position (if one exists). These records are subject to review by the NYS Department of Labor.
I'm Already Covered by a Pay Transparency Law! How Does That Work? 
Pay transparency laws are certainly not new in NYS. Other jurisdictions, such as NYC, Westchester County, and Albany County, already have similar laws on the books. At this juncture, it's unclear how they'll all jive together, but we do expect NYS to release regulations before its law goes into effect. In the meantime, we'll keep an eye out for any hiccups in their implementation, and hopefully, NYS will learn from their challenges.
What Should I Do?
Employers throughout NYS can take some actions while awaiting further guidance from the NYS Department of Labor:
Consider how you'll determine compensation/compensation ranges. 
Develop a compliant record retention policy and train your staff. 
Train up those who may recruit on your behalf. 
Revise your job descriptions, if you have them. 
Consider undertaking a proactive pay equity audit. 
While you may want this to be a "future you" problem, now is the time to get ready for it.

NON-DISCRIMINATION/RETALIATION FOR LAWFUL ABSENCES
(Starts on February 19, 2023) 
Think twice before taking employment action. Starting on February 19, 2023, all NYS employers may not "discharge, threaten, penalize, or in any other manner discriminate or retaliate against any employee" absent from work for a reason covered by federal, state, or local law. This includes maintaining any policy or practice that:
fails to inform workers of their legally-protected leave rights; and/or 
punishes employees who take those leaves. 
Legally-protected leaves run the gamut, including Family and Medical Leave Act (FMLA) leave, Paid Family Leave (PFL), COVID-19 leave, Paid Sick Leave (PSL), victims of crime leave, military leave, volunteer emergency responder leave, and more! 

This law creates a new cause of action for employees to bring against their employers, so employers should certainly be prepared! What's an employer to do?
Review all policies and procedures to ensure they're in compliance. Employers who maintain "no-fault" or points systems with respect to absences may want to reconsider those practices.
Train managers and supervisors. If they're considering taking such action against someone who used or is using a lawful leave, they likely should consult with HR/legal counsel, as they may not be aware of all applicable leave laws. 
PUMPING SPACES (Starts May 31, 2023)
NYS employers must provide reasonable unpaid break time (or permit employees to use paid break time) to express milk in the workplace for up to 3 years following the birth of a child and to "make reasonable efforts" to provide a room or other location, other than a restroom, to express milk in private. 

Starting on May 31, 2023, however, this law will provide additional protections to nursing employees:
Employers will be required to provide break time to nursing employees 

each time

 they have a reasonable need to express breast milk for up to 3 years following the birth of a child. 
Be gone, "reasonable efforts"! Upon request, employers 

are required to

, within 5 days of such request, designate a room or other location — other than a restroom or toilet stall — that can be used by nursing employees to express breast milk. 

The room/location must be in close proximity to the employee's work area; well-lit; shielded from view; and free from intrusion from other persons in the workplace or the public.
The room/location must provide, at a minimum, a chair; a working surface; nearby access to clean running water; and, if the workplace is supplied with electricity, an electrical outlet. 

When such a room/location is designated as a place to express breast milk, the employer must notify all employees of such designation and direct them that the room/location may not be used for any other purpose while being used to express breast milk. 
If an employer has a fridge, nursing employees must be allowed to store breast milk in it. 
What if I Can't Meet the Nursing Space Requirements?
There is some reprieve for employers. If compliance with these requirements would impose an undue hardship "by causing significant difficulty or expense when considered in relation to the size, financial resources, nature or structure of the employer's business," the employer instead is required to make "reasonable efforts" to provide a room or other location, other than a restroom or toilet stall, that is in close proximity to the work area where an employee can express breast milk in privacy. (We would recommend employers consult with legal counsel before deciding to rely on this exception, however.) 

You Will Need Another Policy 
The new law also requires employers to adopt a policy regarding employee rights when expressing breast milk in the workplace. The policy must:
inform employees of their rights under this law; 
specify how to submit a request for a room/location to express breast milk; and
require the employer to respond to such a request within a "reasonable" timeframe — no more than 5 business days. 
Employers will be required to provide this policy to all employees upon hire, annually thereafter, and to employees returning to work following the birth of a child. 

What Now? 
Employers would be well-advised to start reviewing their policies and procedures before these laws go into effect. 
Other Important Laws & Regulations You Need to Know About
SEXUAL HARASSMENT POLICY (Instituted October 2018 / Updated April 2023)
Every employer in the New York State is required to adopt a sexual harassment prevention policy. An employer that does not adopt the model policy must ensure that the policy that they adopt meets or exceeds the following minimum standards.
April 2023: New York State officials have finalized an updated policy for combating sexual harassment in the workplace for employers in the private, as well as non-profit sectors.Changes include how to address remote workers, gender discrimination and retaliation in the workplace. At the same time, the Department of Labor also announced a new training video for employers, as well as online resources to help workers understand the new policy and mandatory training requirements. 
CLICK HERE for model policies, complaint forms, training requirements, videos, overview webinars and FAQs.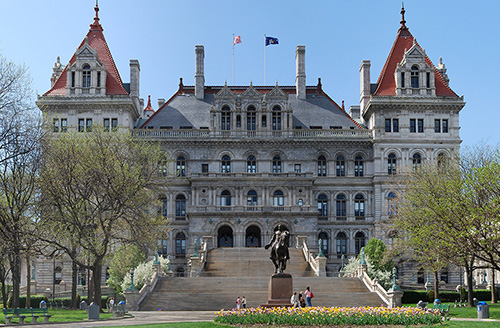 DO YOU KNOW WHO REPRESENTS YOU IN ALBANY?
Not sure who they are?
Click here to Find Your Assembly Member
Click here to Find Your Senator