NYSNLA at the Great New York State Fair - August 2021

Governor Cuomo has announced that The Great New York State Fair will take place this year!  This is an ongoing development as the state continues tracking how we are coming out of the pandemic. The latest update has the Fair working at 67% capacity--and confirming that the Horticulture Building will be open. NYSNLA is moving forward with its plans to be present, offering public outreach about New York State's incredible nursery and landscape professionals, and conducting our Annual Court of Honor for the Classes of 2020 and 2021!
FACT: The New York State Nursery and Landscape Association WILL be in Syracuse August 19-20 to celebrate our association's successes, and present our 2020 and 2021 Award Honorees. Should for some reason, the state reverse its decision on the State Fair, NYSNLA has secured a "Plan B" outdoor venue for the Court of Honor--the Amphitheater at Inner Harbor! 

The NYSNLA Annual Awards Nominations deadline was June 4, 2021.
The three Awards Committee will soon be reviewing the many, excellent nominations that have been submitted!
As soon as the 2021 Honorees have been chosen, we will be sharing the news with you! 

Schedule of Events
Thursday, August 19, 2021
NYSNLA Board of Directors Meeting  1:00 - 4:00 p.m. - Aloft Syracuse Inner Harbor
Leadership & Honoree Gathering  5:00 - 7:30 p.m. - Aloft Syracuse Inner Harbor
Friday, August 20, 2021
NYSNLA Court of Honor Ceremony (Class of 2020 & 2021)  10:30 - 11: 30 a.m.
  Courtyard of Horticulture Building, State Fairgrounds
Followed by Tours & Presentations in the Courtyard
Courtyard Focus: A Sensory Garden
Alternate Venue (should State Fair not be fully accessible): The Amphitheater at Inner Harbor   
Planning Underway!
The State Fair Committee is hard at work making preparations for August--especially as the Fair was cancelled in 2020 due to COVID-19. The committee is comprised of: Beth Fry, Senior CNLP (Chair), Melissa Caggiano, CNLP, Liz Snyder, CNLP and Staff.
Here are some shots from the committee's May 12th site visit at the Fairgrounds and our new headquarters hotel, the Aloft Syracuse Inner Harbor.  
| | | |
| --- | --- | --- |
| Making plans for August! Hope to see you there! | The Horticulture Building | The Courtyard needs sprucing-up! |
| Putting together the work list. | Our Plan B Venue: The Amphitheater | NYSNLA's new HQ Hotel |
| Hotel Lobby and Lounge | Aloft Syracuse Inner Harbor | Looking at hotel courtyard. |

How Can I Support These Efforts?
As this will be the first-time we will all be coming together after 15+ months of pandemic, NYSNLA is seeking a wide range of support for our efforts in Syracuse. We are looking for:
Volunteer Your Time & Talents

- We need help cleaning-up and preparing the Courtyard. We are also seeking members willing to present a topic of interest to the general public during the Fair's weekends (August 20-22 & August 27-29). We need presentations on general topics of interest for the public, such as basic pruning tips, top deer resistant shrubs, top plants for pollinators, etc.      


Click here to complete the NYSNLA State Fair Volunteer Form.
All Sponsors, Donors and Volunteers will be acknowledged by banners and signage at the event, in our program, and through the association's website, social media and newsletter!    
Our 2021 Courtyard Design Focus: A Sensory Garden
NYSNLA will transform the Courtyard of the Horticulture Building into a sensory garden, where the public can enjoy experiencing and learning about this type of garden as they take in the Fairgrounds. 
What is a sensory garden? A sensory garden is a garden that has a collection of plants and other elements that are appealing to move or more of the five senses: sight, smell, sound, taste, and touch. Sensory gardens should be accessible for all people to enjoyed--disabled and non-disabled.  
NYSNLA volunteers will be working with the New York State Fairgrounds Staff to design, procure, and install all the elements necessary to create the sensory garden.
Here is our initial design for the Sensory Garden: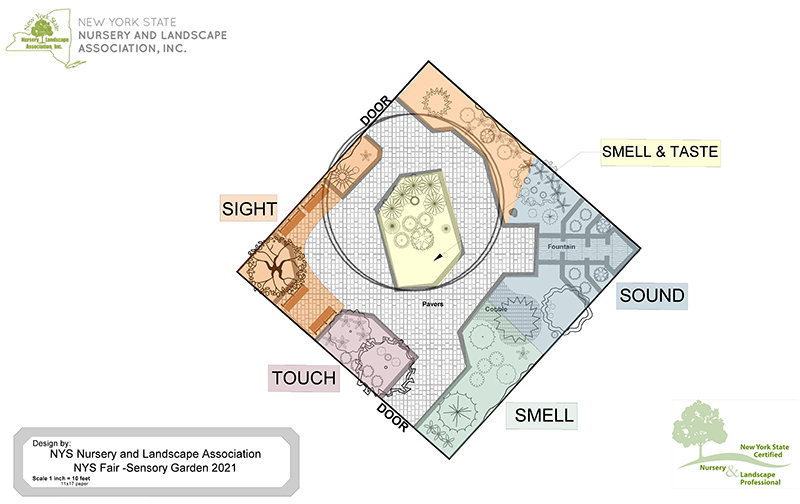 Donations for the Courtyard Experience 
Below see the many ways you can donate to the Sensory Garden and make our return to the State Fair a complete success! All donors will be acknowledged in event signage, program, and through NYSNLA website, social media and newsletter.  
Looking for donations of items: 
Garden sculptures
Living wall (freestanding) or hanging picture wall on brick spaces (Plant Connection)
Birdhouses, birdfeeders, birdbaths
Windchimes, preferably bamboo
Fence sections for hanging signs in front of courtyard walls (bright colored paint for fences) 
Looking for donations of plants: 
Plants for sense of TOUCH: 
Lamb's ears (stachys), Artemesia, Senecio, Hens and Chicks, Irish Moss, Celosia 
Fragrant plants for sense of SMELL: 
Lavender, Monarda, Lilac, Oriental Lily, herbs
Dianthus, Agastache (Hyssop), Creeping Thyme, Nepeta (Catmint), Peony 
Plants that generate SOUND: 
Grasses like sporobulis, Pennisetum, Panicum
Chasmanthium, baptisia 
Plants that enliven sense of SIGHT: 
Variegated plants, bright colorful annuals, textured plants
Sunflower, Zinnia, Swiss Chard (annual), Corylus (Corkscrew Hazel), Echinacea (Coneflower), Allium, Wave petunias 
Vegetable garden plants: 
Beans on a pole, tomato, potato, cucumber, pepper, squash 
Herb garden plants: 
Rosemary, basil, parsley, chives, oregano, chamomile, dill, fennel, sage, scented geranium (citronella) 
Berries & fruit: 
Blueberry, strawberry, blackberry plants 
Small arbor with edibles: 
Edible flowers: 
Nasturtium, anise hyssop, borage, violets, zucchini 
Looking for donations of other elements throughout garden: 
Outdoor speakers playing nature sounds (solar? Bluetooth?)
Landscape Lighting or solar lights for accents
Irrigation system updates/repairs
If you would like to make any kind of donation to our Sensory Garden/Courtyard experience, please complete our State Fair Sponsorship/Program Advertiser/Donation Prospectus and Form.    
Volunteer Your Time for the Courtyard Experience 
NYSNLA is also looking for volunteers to help us produce an incredible experience at the New York State Fair. You can sign-up by clicking here. 
Looking for volunteers for days of service in the Sensory Garden/Courtyard: 
Courtyard cleanup and installation of new sensory garden elements and plants.
Maintenance of plants during State Fair.
Volunteer experts to give talks in the Courtyard during the Fair.
Volunteers to hand out giveaway promotion during State Fair.
We will be contacting all volunteers to provide the latest updates and scheduling as our planning progresses into the summer.
We hope you consider supporting our event! 
If you have any questions, please contact the NYSNLA Office at:
518-580-4063 or [email protected]