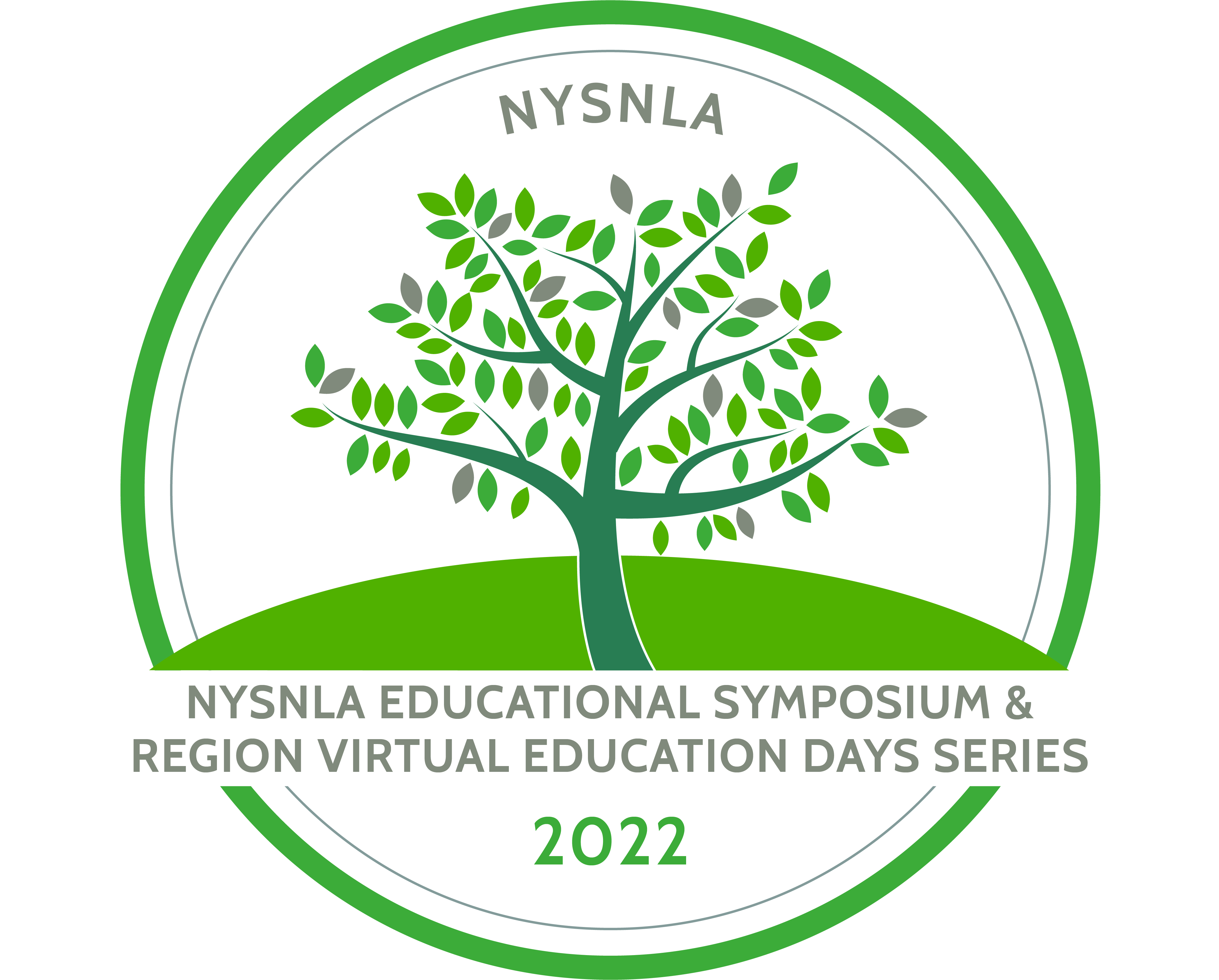 NYSNLA's Virtual Education Series - Webinar Store
In early 2021, NYSNLA held a Virtual Education Series, in order to provide quality professional development in safe setting. The Series also allowed us to bring together members and colleagues together from across the state to learn from nationally-recognized experts.  If you were unable to join us for the Series, you can now access the entire Series presentations and watch them on-demand!   Below, please find each of the 7 offerings.
CNLP Credits: Viewers who wish to obtain Certified Nursery and Landscape Professional (CNLP) credits will need to complete and submit a brief survey in order to earn the specified number of credit hours.  NYSDEC and ISA credits are not available through these webinars.  
2022 Webinars:
Program/Webinar
Presenter(s)
Purchase Link

Region 8/PlantSTNY Virtual Education Day



Kelly Dowell, Keldo Digital

Leon Ginenthal, Der Rosenmeister

Member: $10.00
Non Member: $20.00

NYSNLA Educational Symposium 2022

(3 Webinars)

NYSNLA President Karl Naegler
Melissa Caggiano,

 Chair, Advocacy Committee


Senator Michelle Hinchey, Chair, Senate Agriculture Committee
Assembly Member Donna Lupardo, Chair, Assembly Agriculture Committee
Jeff Williams, NYFB
Margaret Kelly, Ag & Markets Plant Division
Scott Menrath, DEC (Pesticide Licensing)

Michael J. Halter, MS, CSP, CPCU, Director of Loss Control, Haylor, Freyer & Coon
Dan Schied, Director, Grounds at Cornell University

Member: $10.00
Non Member: $20.00

Region 6/PlantWNY Virtual Education Day 

Tim Zimmerman, CNLP, The Robert Baker Company, Medford Nursery
Tom Mitchell, Niagara County Community College

Member: $10.00
Non Member: $20.00

Region 5/PlantGFLX Virtual Education Day
Brian Eshenaur, Senior Extension Associate, NYS Integrated Pest Management Program
Paul Curtis, Extension Wildlife Specifalist, Department of Natural Resources, Cornell University

Elizabeth Lamb, Coordinator for Ornamental Crops, NYS Integrated Pest Management Program

Member: $10.00
Non Member: $20.00

Region 4/PlantCNY Virtual Education Day
Jason Grabosky, Rutgers University

Thomas Allgaier, NYS Department of Agriculture and Markets

Member: $10.00
Non Member: $20.00

Region 7 Virtual Education Day 
Margery Daughtrey, Senior Extension Associate, Section of Plant Pathology and Plant-Microbe Biology, Cornell University 

Member: $10.00
Non Member: $20.00
2021 Virtual Education Series Webinars:
Program/Webinar
Presenter(s)
Purchase Link

NYSNLA Educational
Symposium
(3 Webinars)

NYSNLA President Anthony Caggiano
Advocacy Committee Chair Melissa Caggiano
Rick Zimmerman, NYAFEC
Jeff Williams, NYFB
Chris Logue, Ag & Markets Plant Division
Scott Menrath, DEC (Pesticide Licensing)
Assembly Member Donna Lupardo, 
Chair of Agriculture Committee, NYS Assembly
Also: 
Mike Pollack, The Flanders Group
and the Proven Winners' Team presenting on
annuals, woody ornamentals and perennials

Member: $10.00
Non Member: $20.00

Tick Tactics: Knowing
the enemy is half
the battle, the other is
having a plan.
Dan Gilrein, Cornell CE of Suffolk County
Moses Cucura, Suffolk County
Department of Public Works,
Division of Vector Control
Dr. Tamson Yeh, Cornell CE of Suffolk County
Member: $10.00

Non Member: $20.00

Boxing Against
Boxwood Blight
Margery Daughtrey, Senior Extension
Associate with the Section of Plant
Pathology and Plant-Microbe Biology,
Cornell University
Member: $10.00

Non Member: $20.00

Competing in a
Post-COVID
Marketplace
Dr. Charles R. Hall, Ellison Chair
in International Floriculture,


Department of Horticultural Sciences,




Texas A&M University

Member: $10.00
Non Member: $20.00

The Top 10 Tree
Insects and Diseases
of New York State

Dr. Beth Brantley, Bartlett Tree
Research Lab

Member: $10.00
Non Member: $20.00

 Trends in Horticulture
David L. Culp, Principle of


David L. Culp Designs

Member: $10.00

Non Member: $20.00

Inspiring the
Next Generation:
A Panel Discussion on
Developing a Great
Workforce

Leigh McGonagle, CNLP, 
Owner of Farm Girl Gardens
Pam Dooley, Owner Plants Creative
Jennifer Myers, Senior Director of 
Workforce Development at National 
Association of Landscape Professionals
Shayne Newman, President of YardScapes 
& NALP Board President 

Member: $10.00

Non Member: $20.00