Thank You to Our 2023 Court of Honor Supporters & Volunteers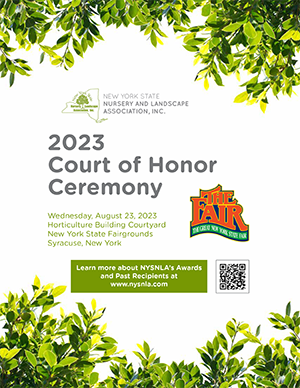 Click here to view/download our Court of Honor Program.
Please check out our advertisers and all those who made our event possible!
NYSNLA wants to thank the following who
supported our efforts at the Great New York State Fair and the Court of Honor
Volunteers
Planning, Courtyard Clean-Up & Maintenance,
 Sensory Garden Installation & Maintenance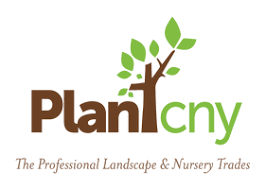 Region 4 always takes the lead in our Courtyard clean-up efforts--and we thank them!
Beth Fry - Green Scapes Inc.
Dale Tuttle - Aspinalls Tree Nursery
Danielle Magee-Fubelli - Morgan Meile Garden Center
Jennifer Canaan - Michael Grimm Services
Kimberly White - Michael Grimm Services
Jessica Barron - The Pond & Rock Shop
Todd Cruikshank - The Pond & Rock Shop
Kaine Egleston - The Pond & Rock Shop
Luke Nicholas - Aspinalls Tree Nursery
Chad Izyk - Izyk Landscaping
Tom Chesbro - Izyk Landscaping
Josh Lambert - Izyk Landscaping
Kyle Bailey - Izyk Landscaping
Rich Williams - Izyk Landscaping
Liz Snyder - True Leaf Design
Leo LaCroix - Belgard Hardscapes
Dana Kuhlmann - Site One Landscape Supply
Melissa Caggiano – Plant Connection
Donations
Plants, Mulch, Decorative Elements & Supplies
Belgard Hardscape
Cross Creek Nursery
Green Scapes Inc.
Lasnicki Landscaping & Nursery
Medford Nursery
Morgan Meile Garden Center
Northern Nurseries
Poplar Point Studio
Advertisers
Please check out the fine companies who have ads in our program. 
We thank them for their support!
Special Thanks
Our Members & Supporters Who Joined Us!
The Staff of the Great New York State Fair &
NYS Department of Agriculture and Markets
The Caggiano's & Jamesport Farm Brewery
for support of our Summer Celebration
The NYSNLA Office Team
Committees Contributing to
NYSNLA's 2023 New York State Fair Presence
State Fair Committee
Beth Fry, Lifetime CNLP – Chair
Melissa Caggiano, CNLP
Elizabeth Snyder, Senior CNLP
CNLP of the Year Selection Committee
Beth Fry, Lifetime CNLP – Co-Chair
Jerry Parmenter, Senior CNLP – Co-Chair
Liz Berkeley, CNLP
Dannielle Carr, CNLP
Vincent Drzewucki, Jr., Lifetime CNLP
Christian Gruber, CNLP
Bob Hansen, CNLP
Scott Olivieri, CNLP
Kim Schichtel, CNLP
Elizabeth Snyder, Senior CNLP
Mina Vescera
Hall of Fame Selection Committee
Karl Naegler, CNLP – Chair
Mike Frank
Phil Tripi
Dr. George L. Good Gold Medal of Horticulture Selection Committee
William Head
Donna W. Maromarco, CNLP
Dr. Martin Petrovic